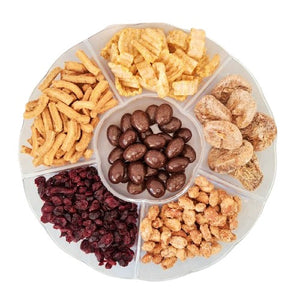 This beautiful platter of delicious treats makes a fantastic Jewish New Year gift for any host, employee or friend. This 6 sectional tray comes with addictive honey & dijon mustard soya crisps and honey soy rice crackers, with some decadent chocolate covered almonds, honey caramelisd almonds and a mix of dried fruit for the sweet tooth. This Rosh Hashana themed gift platter is full of sweet treats which will be enjoyed by all this festive season.
It is a great family or hostess gift, with something for everyone. Send it directly to a friend, family member or colleague or have it delivered straight to your door.
This gift platter is only available as a platter for local delivery within 5km of East St. Kilda. For any orders requiring shipping, the food items will be sent in other packaging safe for transit.
Simply choose our complimentary gift card or select one of the designs available for purchase. Please write the message you'd like to include in the notes, before you check out.
Platter includes:
Honey Caramelised Almonds
Chocolate Covered Almonds 
Honey Dijon Soy Crisps 
Honey Soy Rice Crackers

Dried Figs
Craisins
All products are Kosher certified and Dairy-free. 
If any item is out of stock, it will be substituted with a similar product of equal or greater value.