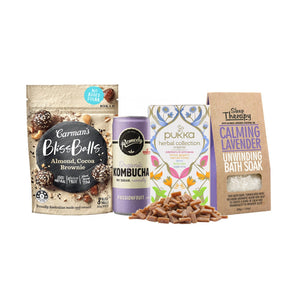 This beautiful Kosher gift hamper includes a selection of refreshing, light and healthy treats, a perfect recipe for a relaxing night in. Passionfruit delights with the fruity, tangy and tropical Remedy Passionfruit Kombucha, alongside the Passionfruit and Chia fruit leather pieces which are moreish and a subtle mix of sweet and sour. Carman's Bliss Balls are nutritious and delicious, containing 100% natural ingredients. The relaxing Sleep Therapy Calming Lavendar Unwinding Bath Soak contains lavendar essential oils which creates a sense of tranquility and calm before bed. Perfectly paired with the Pukka Herbal Collection of teas, which include Elderberry & Echinacea, Lemon, Ginger and Manuka Honey, Night Time, Three Mint and Feel New. This box of heavenly, 100% organic award-winning teas are all ethically sourced and rich in flavour. There's nothing that a warm bath and hot mug of tea can't fix! This luxurious gift hamper is the perfect pamper gift for any mum, sister, daughter, friend or employee who could use a restful night after a long day.
Beautifully packed in our eco-friendly gift boxes with shredded paper and ribbon, simply choose our complimentary gift card or select one of the designs available for purchase. Please write the message you'd like to include in the notes, before you check out.
Hamper includes:
Camille & Mae Sleep Therapy Calming Lavendar Unwinding Bath Soak 200g

Remedy Organic Passionfruit Kombucha 250ml
Passionfruit And Chia Fruit Leather Pieces 170g
Pukka Herbal Collection
Carman's Bliss Balls 80g
All food items in this gift hamper are Kosher Certified, dairy-free and gluten-free.

If any item is unavailable, it will be substituted for an alternative similar item of equal or greater value.